Enchanting Moments, Exquisite Tales of Luxury.
Experience the authentic charm of Morocco in a truly unique setting, with unparalleled amenities and world-class service.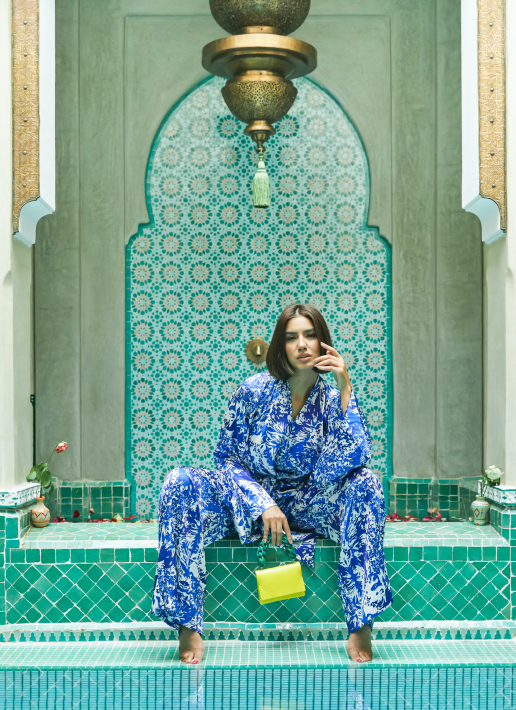 Riad Hikaya is a luxury boutique hotel located in the royal quarter of the Medina, known as the 'Kasbah', and within easy walking distance of the main square, Jemaa el-Fnaa, and other renowned landmarks in the city.
Riad Hikaya offers eight double bedrooms/suites, fabulous cuisine crafted to the highest standard, a hammam and roof-top jacuzzi, and year-round swimming in the open-air pool, kept delightfully warm in all seasons – a real treat as winter heating is a rarity in Marrakech hotels and Riads.
It took more than five years of meticulous restoration by local craftsmen and artisans, employing both age-old techniques and materials, to transform the Riad into what it is today.
The harmonious blend of ancient tradition and contemporary comforts, coupled with our emphasis on quality and personal service, will create for you an unforgettable experience.
We look forward to welcoming you to Riad Hikaya.
Unwind in our indoor heated pool, surrounded by Moroccan tilework and elegant lighting. Relax in our invigorating Hammam.
Indulge in ultimate relaxation and rejuvenation at our spa and traditional hammam. Treat yourself to a range of blissful treatments and massages.
Take a dip in our luxurious indoor heated pool, providing a serene and private oasis for relaxation and rejuvenation throughout your stay.
Our dedicated concierge team is here to ensure your every need is met during your stay. From arranging reservations and transportation to providing recommendations for local attractions and activities.
Start your day off right with a complimentary gourmet breakfast, featuring a delectable array of Moroccan delights, ensuring a delightful culinary experience each morning.
Enjoy a seamless experience with our airport transportation service, ensuring a stress-free journey to and from the Riad.
FREE HIGH SPEED INTERNET (WIFI)
Stay connected and effortlessly browse the web with our complimentary high-speed internet access, allowing you to stay in touch with loved ones.
Our expert chefs craft exquisite dishes inspired by traditional recipes. Each bite will transport you on a gastronomic journey of Morocco.
Immerse yourself in the enchanting sights and sounds of Marrakech with our expertly guided tours, providing you with an insider's perspective on the city's vibrant culture, history, and hidden gems.